Ingrid Jonker
The poem that outlived the poet
September 19, 1933 — July 19, 1965
Location:

Beach Road, Gordon's Bay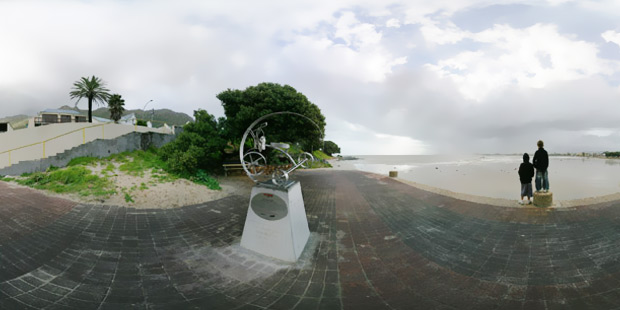 Picture: Craig Mathews © South African History Archive
In 1963 Ingrid Jonker's poem, The child who was shot dead by soldiers at Nyanga, was published. Two years later, at the age of 31, her ongoing battle with depression and anxiety caught up with her and she took her own life. Gordon's Bay is where Jonker spent much of her childhood and where she was happiest. Almost 30 years later, President Nelson Mandela reminded the country of this poet's insight and prescience when he read The child during his inaugural address to South Africa's first democratic Parliament, on May 24, 1994: "... the child grown to a man treks through all Africa the child grown into a giant journeys through the whole world Without a pass".
From The Archives
Rook en Oker
Rook en Oker was Ingrid Jonker's second volume of poetry. It was an intimate collection of poems, many of them about her daughter, Simone.
The Child
One of Ingrid Jonker's most famous poems, "Die Kind" (The Child), was written in the wake of the 1960 Sharpeville Massacre. Read the poem that was read by President Nelson Mandela during the opening of South Africa's first democratic Parliament.
On the Brink
Ingrid Jonker's last days were harrowing. At her funeral, Jack Cope, a close friend and former lover, threw himself into the grave in grief. Reporter Terry Herbst spoke to the distraught Jonker hours before she walked into the sea. Read his account.
Grave Robber
Despite denying allegations, Ingrid Jonker's father, Abraham Jonker, threatened writers with police prosecution if they dared speak at her funeral.
A Fitting Tribute
Ingrid Jonker's funeral was supposed to be a moment when her closest friends could pay tribute to her, but her father intervened and prevented them from speaking. Read here poet Uys Krige's tribute, written but never delivered at the graveside.
Life Stories
Troubled, and inspired by troubles
In his inaugural address to Parliament, President Mandela read "The Child" and remarked of Jonker's poem: "… she instructs that our endeavours must be about the liberation of .. woman, .. emancipation of .. man and .. liberty of .. child".
Being Ingrid
Mozambican-born filmmaker Helena Nogueira initially thought Ingrid Jonker's suicide was the final act of a loser...
Making the Memorial
Who is Tyrone Appollis?
A professional artist since the late 1970s, Tyrone Appollis works from the conviction that "an artist must be of his time".
The Light Bulb Moment - The Artist's Concept
The artist has used the image of a tricycle as the concept for this piece, taken from the line of the poem: "…This child who just wanted to play in the sun…"