The Light Bulb Moment - The Artist's Concept
Tyrone Appollis's sculpture for the Ingrid Jonker memorial (here seen in progress) was inspired by a line from her most famous poem,
Tyrone Appollis's artwork is based on Ingrid Jonker's timeless poem, "The child who was shot dead by soldiers at Nyanga".
Appollis used the image of a tricycle as the concept for this piece, inspired by a line from the poem: "... this child who just wanted to play in the sun ...".
He included several lines from Jonker's poem on the four sides of the plinth on which rests the sculpture he made. The lines are in polychrome mosaic and are rendered in a childlike handwriting:
"This child who just wanted to play in the sun"
"The child peers through the windows of houses and into the hearts of mothers"
"The child grown into a giant journeys through the whole world"
"The child is not dead"
The memorial's base is cast in concrete and the sculpture fashioned from flat iron, which was hot-dipped, galvanised and epoxy-coated.
The memorial to Ingrid Jonker is installed on the seafront at Gordon's Bay where she spent some of her happiest moments as a child.
"She was both a poet and a South African. Confronted by death, she asserted the beauty of life."
Nelson Mandela on Ingrid Jonker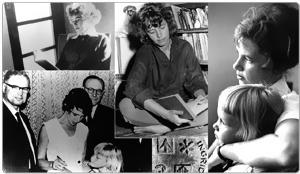 Picture: © National Afrikaans Literary Museum

| | |
| --- | --- |
| IN THE CLASSROOM | |
Poetry as historical source

In this lesson plan, learners will be able to see that poetry was used as a weapon against the apartheid state, as well as a way of looking forward to a time of freedom and peace. Poetry can tell us a great deal about the personal and political feelings of people in the past.
Lesson plan
You′ll need the Adobe Acrobat PDF reader to view these lesson plans.
Download it here
.


| | |
| --- | --- |
| | Audio Archive |
| | Ingrid Jonker reads one of her poems for a 1965 Springbok radio recording. In Afrikaans. |
| | |
| --- | --- |
| | Audio Documentary |
| | Listen to Ingrid Jonker's biographer, Petrovna Metelerkamp, and other friends talk about Ingrid's life. |
| | |
| --- | --- |
| | Panorama |
| | A 360° view of the sculpture on Beach Road in Gordon's Bay. |
| | |
| --- | --- |
| | A Tribute to Ingrid Jonker |
| | In his inaugural address to Parliament in May 1994, President Nelson Mandela read Ingrid Jonker's poem, "The Child" |