The Purple Shall Govern
The beginning of the end
September 2 1989
Location:

Corner Burg and Church Streets, Cape Town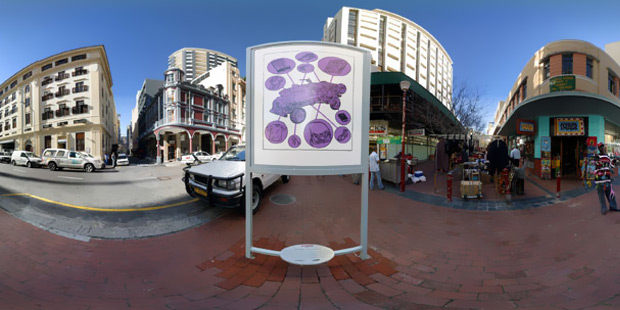 Picture: Craig Matthews, Doxa © South African History Archive
On September 2 1989 anti-apartheid protesters marching on Parliament were stopped by police near this spot. They mounted an impromptu sit-in and police retaliated with tear gas, batons and a new weapon: a water cannon laced with purple dye to stain demonstrators and make them easier to identify and detain. As protesters scattered, one climbed onto the armoured vehicle with the cannon and turned the purple jet on police. Purple dye stained most of the surrounding buildings, including the National Party headquarters and the white-washed walls of the historic Old Townhouse. The next day graffiti all over the city proclaimed "The Purple Shall Govern". This was one of the last protest marches outlawed by the apartheid government. Eleven days later, 30 000 people marched through the city without police intervention.
From The Archives
Before the fall and the rise of the MDM
When more than 30 000 Capetonians took to the streets, transferring people's power from the township to the city centre, it was against the backdrop of Cosatu's factory-based and national political campaigns.
Personal and other accounts of the march
Dene Smuts and Shauna Westcott's book, The Purple Shall Govern: A South African A-Z of Non-Violent Action, deals with the Purple Shall Govern march in substantial detail.
What happened next?
After being rounded up by police, protesters were released with no explanation, and in mid-October, charges were dropped against those arrested. The court was told it was the decision of the Attorney-General.
Catalyst for more marches
The Purple March instigated a string of popular marches around the country.
Life Stories
The day the purple fought back
The Purple March emerged from the defiance campaign started in 1989 in response to a national state of emergency.
The day the purple governed
Purple took on a powerful meaning during an anti-apartheid protest in Cape Town in the dying years of the dreaded Eighties.
A moment of madness
Phillip Ivey, the protester who turned the water-cannon on the police, talks about events that led up to the march on September 2, 1989.
Demo chaos - 1000 held
In a massive show of force, police yesterday cracked down on pre-election demonstrators in the biggest urban disturbance since the state of emergency was imposed three years ago.
Making the Memorial
Who is Conrad Botes?
At an exhibition some time ago, one reviewer concluded that Conrad Botes was the spawn of Satan, while another thought he was a prophet.
The Light Bulb Moment: The Artist's Concept
The two side by side images, Conrad explains, represent the different people who participated in the march and the sort of things that would have been in their pockets.