Nontetha Nkwenkwe
The silenced prophetess
Around 1875 — May 20, 1935
Location:

Magistrate's court, Alexandra Street, King William's Town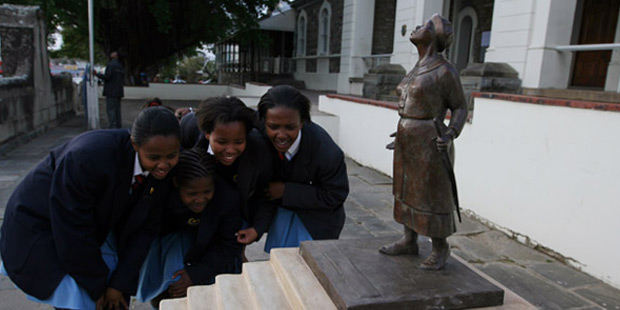 Picture: Gary Horlor © Sunday Times
On December 6, 1922, at the King William's Town magistrate's court, the prophetess Nontetha Nkwenkwe was committed to Fort Beaufort mental hospital for "medical observation" as hundreds of her followers sang hymns outside. Nkwenkwe had begun having visions and preaching temperance after surviving the 1918 flu epidemic. Authorities feared her growing popularity would threaten white rule and the established churches. After she was moved to Weskoppies hospital in Pretoria two years later, 36 of her followers walked there on a 55-day "pilgrimage of grace". Nkwenkwe died at Weskoppies in 1935. In July 1998 her body was exhumed and returned - via the pilgrims' route - to her home. The Church of the Prophetess Nontetha survives to this day.
From The Archives
Why did Nontetha's popularity threaten the establishment?
Unlike 19th-century Xhosa prophets such as Nxele and Mlanjeni, Nontetha attempted to seek some sort of accommodation with the Europeans, and her prophecies focused on the necessity for unity.
The reluctant prophetess
Despite her attempts to resist the calling, Nontetha continued to preach after she was told that, if she failed to do so, God would start speaking through her daughter.
The effect of the Bulhoek Massacre on Nontetha's fate
The Bulhoek Massacre had a persistent impact on government attitudes to prophetic movements and African spiritual leaders.
Detained for "Seditious Activities"
Although the authorities and local headmen initially regarded Nontetha as nothing more than a troublesome leader, as her power grew a decision was taken to "pathologise" her as mad.
Records of Nontetha's confinement at Fort Beaufort and Weskoppies asylums
Several harrowing psychiatric reports document Nontetha's confinement at Weskoppies asylum. Perhaps most poignant is the observation that, despite her initial feistiness, after a year inside her fighting spirit seemed to be quelled.
The Pilgrimages of Grace
Nontetha's followers organised several "pilgrimages of grace" to Pretoria to be nearer to her and to lobby for her release.
The church today
Despite the authorities' attempts to silence Nontetha and stamp out her following, the church is still going strong today, with between 20 000 and 30 000 members.
Life Stories
Soul asylum
As a young woman, Nontetha Nkwenkwe had gained some standing as a seer and herbalist. But in many ways, her life was much the same as that of other rural women of the time, struggling alone in the newly created Transkei and Ciskei reserves.
Hidden piece of SA history comes to light as prophecy is fulfilled
The amazing story of Nontetha Nkwenkwe is celebrated by the Sunday Times Heritage Project. Janette Bennett reports.
Making the Memorial
Who is Lynnley Watson
The work of Port Elizabeth-based ceramicist Lynnley Watson frequently hinges on the struggles of working-class women.
The Light Bulb Moment: The Artist's Concept
Lynnley Watson's creation ensures that those passing the magistrate's court in King William's Town will never forget the tragic story of the prophetess.