Who is Lynnley Watson
Eastern Cape artist Lynnley Watson puts the finishing touches to her sculpture of Nontetha Nkwenkwe.
Picture: Courtesy of Lesley Perkes
The work of Port Elizabeth-based ceramicist Lynnley Watson frequently hinges on the struggles of working-class women
Watson holds an art teacher's diploma from the Johannesburg Art College and graduated cum laude with a National Diploma in Ceramic Design from the Port Elizabeth Technikon in 1998.
She has lectured at the Nelson Mandela Metropolitan University Ceramics Department and spent several years in the 1970s working in studios in England and Italy. She has run her own studio, teaching children and adults, since 1983.
Watson's work is found in private and public collections around the world and she has exhibited periodically on the international exhibition and gallery circuit.
In South Africa, she's taken part in numerous exhibitions, including the Brett Kebble Art Award exhibitions (2003-5), Mandela Metropolitan Art Museum exhibitions (1994, 2000 and 2003) and Dig This at the Grahamstown Arts Festival in 2004.
She was the regional winner of the East Cape Corobrik Award in 1987, 1990, 1998, 1999 and 2000.
"Nontetha is walking in a trance, eyes closed, waiting on the word of God"
Lynnley Watson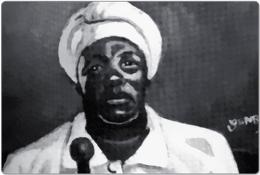 Picture: Courtesy of the church of the prophetess Nontetha

| | |
| --- | --- |
| IN THE CLASSROOM | |
In this lesson plan, learners are asked to decide whether the prophetess Nontetha was incarcerated because the authorities thought she was mentally ill, or whether they had political reasons for branding her as mad. Learners will be examining a medical report, letters from Nontetha's followers and the response from the Native Affairs Department.
Lesson plan
You′ll need the Adobe Acrobat PDF reader to view these lesson plans.
Download it here
.


| | |
| --- | --- |
| | Images from Notetha Nkwenkwe's life |
| | A selection of images from Nontetha Nkwenkwe's life and of the memorial to the prophetess outside the King William's Town magistrate's court. |
| | |
| --- | --- |
| | The reburial of prophetess Nontetha |
| | In 1935, the prophetess Nontetha Nkwenkwe died at Weskoppies mental hospital where she had been incarcerated for preaching politically incendiary messages in the Eastern Cape. Fifty-three years later, in 1998, after a long search for her grave, she was re |