Death in Detention
Downtown at Death Central
1971 — 1990
Artist:

Kagiso Pau Mautloa

Location:

Johannesburg Central Police Station, corner Henry Nxumalo and Loveday Streets, Johannesburg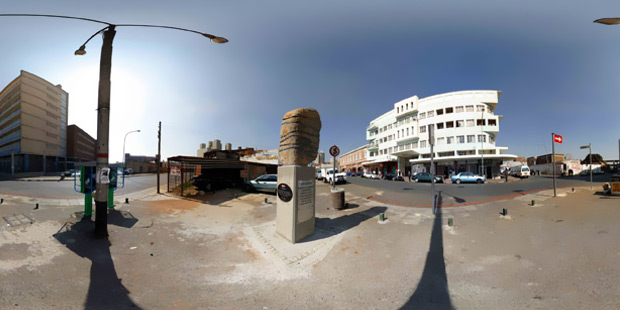 Picture: Craig Mathews © South African History Archive
Between October 27, 1971 and January 30, 1990, seven people died here while being held indefinitely under apartheid's detention laws. An eighth man died in hospital a week after being interrogated by the security branch on the infamous tenth floor. The lift went only to the ninth floor. Political prisoners were walked up a final flight of stairs to reach the tenth. An undetermined number of detainees were tortured. The station was named after Prime Minister BJ Vorster. In September 1997, John Vorster Square was renamed and transformed into Johannesburg Central Police Station. The bronze bust of Vorster was removed to the police museum.
From The Archives
Planning Hell
As John Vorster Square was being planned, the apartheid security police, which would come to occupy the ninth and tenth floors of the building, argued successfully that these floors would need unique features.
Not so straight to the top.
Obsessed with security, police made sure that gaining access to the ninth and tenth floors of John Vorster Square would be extremely difficult.
Reliving Detention
For many detainees at South Africa's most notorious police station, their time was marked by sessions of interrogation and torture. Read extracts from interviews with some of those who underwent this ordeal.
An Unlikely Way to Die
On February 15, 1977, Matthew Mojo Mabelane, fell from the tenth floor of John Vorster Square, landing on a vehicle parked below. There is still a great deal of mystery surrounding his death, with many believing it was foul play.
Fighting for Hope
Read extracts from Carl Niehaus's book, Fighting for Hope, in which he describes his period of detention and interrogation at John Vorster Square, and how police used his personal relationship with Jansie Lourens to break him.
Life Stories
Going to Goch Street
The first death at John Vorster Square occurred in October 1971, the last in 1990, 12 days before Nelson Mandela's release from jail.
Memorial to Deaths in Detention
A public memorial that pays homage to eight detainees who died at the former John Vorster Square was installed as part of the Heritage Project.
Symbol of Past Horrors Holds Hope for the Future
Every time I pass the plain, blue-framed bulk of Johannesburg Central I am reminded of Chris van Wyk's dark satire on death in detention, writes Paul Ash.
Making the Memorial
Who is Kagiso Pat Mautloa?
Working in downtown Johannesburg, Kagiso Pat Mautloa explores the relationship of the city to the people who inhabit it.
The Light Bulb Moment - The Artist's Concept
The large granite rock, called "Simakade", symbolising struggle and resilience, is what Kagiso hopes will demonstrate what went down at the square.