Tsietsi Mashinini
Courage at the frontline
January 27 1957 — July 5 1990
Location:

Opposite Morris Isaacson High School, Mputhi Street, Central Western Jabavu, Soweto, Johannesburg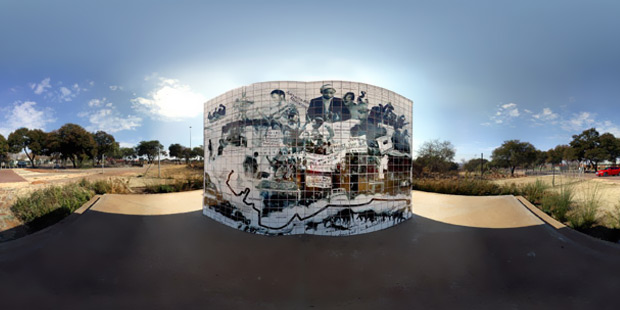 Picture: Craig Matthews, Doxa © South African History Archive
At 8am on June 16 1976 Tsietsi Mashinini interrupted the school assembly to lead the first group of students out of the gates and on the march that started the Soweto uprising. They were protesting the use of Afrikaans in schools. A reward was posted for his capture and one afternoon security police checked every student leaving the grounds. Mashinini, who was a prefect at Morris Isaacson, escaped detection by dressing up as a girl. After the march he never slept at home again and fled the country two months later.
From The Archives
Fanyana Mazibuko's testimony to the TRC
During the Truth and Reconciliation Commission hearings on human rights violations, Fanyana Mazibuko, Tsietsi Mashinini's former science teacher, recounted the situation at Morris Isaacson High School before June 16.
Behind Morris Isaacson's Humble Faςade
In this article from Saturday Star, Tefo Mothibeli offers a glimpse of what Morris Isaacson was like as a school before June 1976.
David Kutumela's Testimony
David Kutumela, a close friend of Tsietsi Mashinini, was forced to submit a statement to the Cillié Commission (a state-led inquiry into the June 1976 uprising.
The Charge of the Light Brigade
Alfred, Lord Tennyson's "Charge of the Light Brigade" was one of Tsietsi Mashinini's favourite poems, and one he quoted to rouse his fellow students to action.
An unofficial declaration of war
In this hurried statement, written by Tsietsi Mashinini just before he fled into exile in late August 1976, he calls the police action of the previous two months "an unofficial declaration of war."
Master of disguises
After the student uprising on June 16 and before he went into exile about two months later, Tsietsi Mashinini used his acting abilities along with numerous inventive disguises to evade detection by the police.
The hero who spurned the ANC and PAC
Both the ANC and PAC made efforts to get Mashinini to join them, but Tsietsi Mashinini is said to have rejected the advances of both organisations.
Ma Mashinini's TRC Testimony
In her moving testimony to the Truth and Reconciliation Commission, Tsietsi's mother describes how she lost her job after her son's disappearance into exile.
Life Stories
Young, cool and defiant
Tsietsi Mashinini, a leader of the 1976 Soweto protests, was a charismatic and, ultimately, a tragic figure.
The Enigma behind June 16
The plucky student activist remains an enigma, his political affiliations hotly debated to this day.
Student leader honoured in Soweto artwork
Our memorial honouring June 16 student leader Tsietsi Mashinini, was unveiled in Soweto on the 30th anniversary of the uprising in June 2006.
Making the Memorial
Who is Johannes Phokela?
He was raised in Soweto and was 10 years old in 1976. Phokela graduated from the Royal College of Art and lives between London and Johannesburg.
The Light Bulb Moment: The Artist's Concept
Phokela's concept was inspired by socialist murals, but with a twist that would have less to do with old-style revolutions and "more to do with hope".