Mannenberg
Freedom Song
October 9 1934 —
Artist:

Mark O'Donovan and Francois Venter

Location:

21 Bloem Street, Cape Town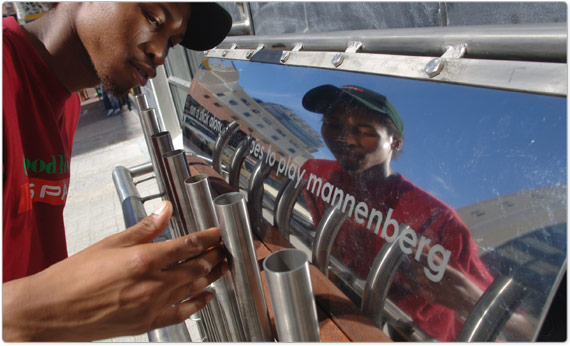 Picture: Garth Stead © Sunday Times
In June 1974, Abdullah Ibrahim, with Robbie Jansen, Basil Coetzee, Monty Weber, Morris Goldberg and Paul Michaels, was recording here at the old UCA recording studio under the watchful eye of producer Rashid Vally. In a moment of inspiration, Mannenberg was born. "There was magic in the studio that day," says saxophonist Jansen. Recorded against a backdrop of forced removals as the apartheid government finalised its destruction of District Six and evicted coloured families from homes throughout the city, the title track fused Cape jazz with African marabi to produce a melody that became a beloved anthem of hope and resistance for many South Africans.
From The Archives
The power to uplift
These extracts highlight the role that Cape Town jazz musicians Abdullah Ibrahim, Basil Coetzee and Robbie Jansen played in boosting morale during a dark time.
The men behind the music
Somewhere between Bazil Coetzee's childhood penny-whistling and Abdullah Ibrahim's highbrow intellectual jazz, a new sound was born.
Career boost?
Did 'Mannenberg' significantly alter the careers of Abdullah Ibrahim and his fellow musicians? Find out here…
Double-platinum status
When Mannenberg's creators first tried to sell the tune to producers in Johannesburg, nobody was interested. They went ahead and made demo copies themselves, which they sold over the counter at Rashid Vally's cult record store.
Music in a time of forced removals
To give a sense of the atmosphere that prevailed in Cape Town at the time Mannenberg was composed, our archive offers oral testimonies and reports from a time in which families were torn apart and neighbourhoods destroyed.
The sound of Cape Town
Never has a single tune had so huge an influence on the people of Cape Town…
Life Stories
A national anthem
Named after a Cape Flats suburb (though spelt differently), the ecletic jazz tune, Mannenberg, became an anthem for the freedom struggle, generating solidarity in the dying decades of apartheid.
Passers-by invited to share a few pipes
Musical memorial gets people playing, writes Bobby Brown.
"I write what I know best..."
This interview with Abdullah Ibrahim taps into the musings of a man not usually given to many words.
Making the Memorial
Who are Mark O'Donovan and Francois Venter?
Mark O'Donovan is a qualified electrical engineer and the founding director of the Odd Enjinears, an outfit that makes 'music machines'.
The light bulb moment: The artists' concept
The two artists tuned seven pipes to correspond with the opening notes of Mannenberg, with a sound audible enough to survive the outdoor noise.