The First Trans-Africa Flight
Queen of the African Skies
February 4 1920 — March 20 1920
Artist:

Strijdom Van Der Merwe

Location:

Prince George Street, Youngsfield, Cape Town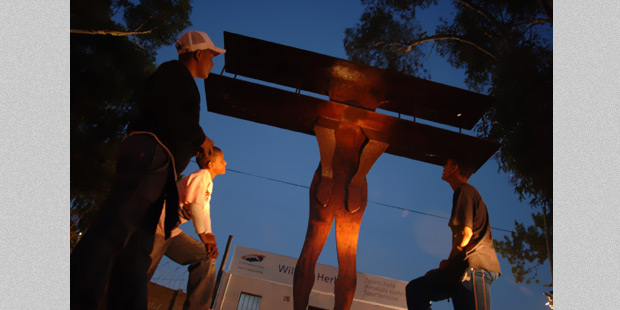 Picture: Garth Stead © Sunday Times
On March 20 1920, Pierre van Ryneveld and Quintin Brand touched down at Youngsfield, Wynberg in a De Havilland DH9 - the first trans-Africa flight from London to Cape Town. Several other British teams had set out to pioneer this new air route, but each had crashed and abandoned their effort. Van Ryneveld and Brand crashed two planes en route - one in a forced landing in southern Egypt, the other during take-off in Zimbabwe. Prime Minister Jan Smuts was determined that the South Africans should succeed and each time ordered replacement aircraft to be sent to them. The pilots, who were knighted for their achievement, spent 109 hours and 30 minutes in the air, though the journey took 45 days.
From The Archives
Across African Skies
Read J McAdam's detailed account of the journey.
Life Stories
Pioneers of the African Skies
The record-breaking journey of Pierre van Ryneveld and Quintin Brand, who pioneered the first flight from the Brooklands aerodrome in England to Cape Town in swashbuckling style.
Tossed Coins, Dust Storms and Crash Landings
Veronica Brand, daughter of celebrated aviator Sir Quintin Brand, shares with Sue Valentine some of her father's personal tales of the daring capers during the first flight across Africa — from England to Cape Town.
Making the Memorial
Who is Strijdom van der Merwe?
Strijdom is a South African award-winning land artist who uses materials he finds on site to create his artworks. His materials include sand, water, wood, rocks and stone.
The Light Bulb Moment - The Artist's work
Memories of childhood and boys' adventures informed Strijdom van der Merwe's thinking as he developed the artwork concept.