Cissie Gool
The Jewel of District Six
November 6 1897 — July 4 1963
Location:

Longmarket Pedestrian Mall, between Buitenkant and Plein Streets, Cape Town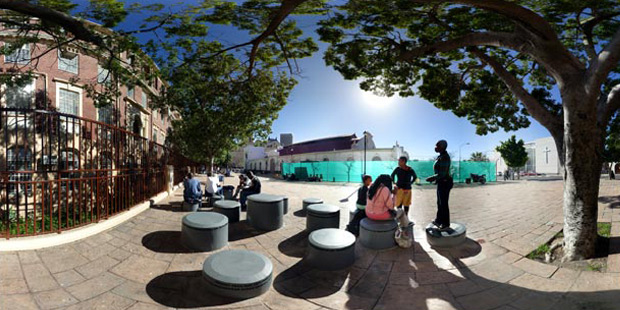 Picture: Craig Mathews © South African History Archive
In August 1938 Cissie Gool was elected to the Cape Town City Council, the first black woman in the country to serve in local government. Known as the "Jewel of District Six" she represented the people of that constituency in the council until 1951. The daughter of city councillor and political leader Dr Abdullah Abdurahman, she was a founder and leader of the National Liberation League and the Non-European Front in the 1930s, and was active in the fledgling passive resistance movement. In 1962 Gool became the first black woman to be called to the Cape Bar.
From The Archives
The Young Author
When she was 15, Cissie won the African People's Organisation newspaper award for best poem for a person under 16. Titled "His Mother's Boy", its sentimentality is perhaps to be excused in an adolescent whose talents grew in other directions.
Hear Ye! Hear Ye!
View the flyers that signalled that Gool had arrived on the Cape Town political scene. Distributed in 1938, they urged voters in District Six to put their crosses next to her name, and outlined her political platform.
Recognition
Read one of the many letters of congratulation Gool received on being re-elected to represent District Six on the Cape Town City Council in 1944.
Life Stories
Icon and Iconoclast
Cissie Gool was much more than "the younger daughter of Dr Adburahman", as newspapers of the day described her. She was a tireless activist for human and civil rights, and the first black woman elected to the Cape Town City Council in 1936.
Making the Memorial
Who is Ruth Sacks?
This project was Sacks's first public commission and has been very different from private commissions, which generally offer greater freedom.
The Light Bulb Moment - The Artist's Concept
Sacks explains the inspiration behind the 17 concrete bollards, each inscribed with text depicting Cissie's political contribution.