Bethuel Mokgosinyana
The House of Pirates
October 7 1911 — July 5 1990
Location:

4503 Khunou Street, Orlando East, Soweto, Johannesburg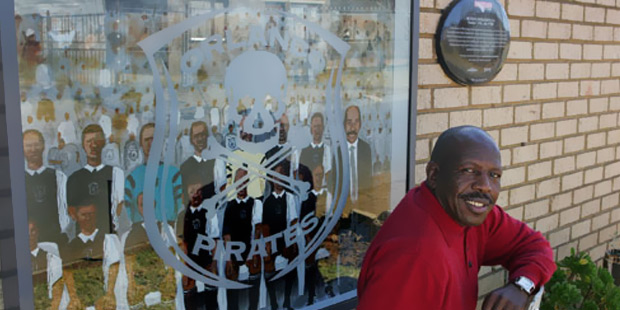 Picture: Debbie Yazbek © Sunday Times
At this house in 1939, an eager band of schoolboys was transformed into one of South Africa's most formidable soccer teams, Orlando Pirates. This was the home and headquarters of the team's first president, Bethuel Mokgosinyana, who turned the boys into professionals. He gave Pirates their "colours", the black and white kit they wear today. Every Wednesday, for 10 years, the boys gathered to discuss game strategy; Mokgosinyana always opened and closed these marathon sessions with a prayer. On Fridays before matches the chosen team "camped" here all night.
From The Archives
Giants of the Junior League
In 1939, a group of lively St John's School lads formed themselves into a football club and called themselves Pirates.
Off the Streets and in the Game
As boys' and girls' recreational clubs sprouted around Johannesburg in the 1930s, Andries "PelePele" Mkhwanazi and Bethuel Mokgosinyana, the founding fathers of Orlando Pirates, groomed their team for glory.
Cream of the Crop
The dictate that only boys from Orlando, or the children of Orlando residents, could play for Pirates, deepened the players' sense of self-worth and pride in the knowledge that they were Orlando's "pick".
The People's Club
The club became more than a body catering to its immediate members — it became a source of civic pride for the people of Orlando.
Dissent in the Ranks
The idea of professional football forged rifts among the Pirates players and, following the arrival of club patron David Motsomai, there were whirlwind changes to the way things had been done before.
Life Stories
The Man Who Made the Bucs a Home
Without Orlando Pirates there would be no Kaizer Chiefs, no Jomo Cosmos. But without Bethuel Mokgosinyana there would be no Buccaneers, writes Rafora Rangongo.
Blazing a Trail for Black Football
The story of the birth of Pirates is also the story of how popular culture was shaped.
Making the Memorial
Who is Sam Nhlengethwa?
Nhlengethwa still lives in Springs, on the East Rand, where he was born and raised "close to my community".
The Light Bulb Moment - The Artist's Concept
JAZZ, improvisation, collage and an enduring passion for the Bucs all contributed to Sam Nhlengethwa's Orlando Pirates memorial.