Who are Loyiso Makilipi and Andrew Lindsay?
Johannesburg artist Andrew Lindsay and a group of emerging artists developed the Mgxaji artwork from a concept by Mdantsane artist Loyiso Makilipi.
Artist Andrew Lindsay, who runs the Spaza Art Gallery in Troyeville, has driven numerous public art projects in Johannesburg. He now has strong ties to the Eastern Cape through the Sunday Times Heritage Project, working on artworks to commemorate boxing hero Happyboy Mgxaji in Mdantsane and Defiance Campaign leader Raymond Mhlaba in New Brighton, Port Elizabeth.
For the Mgxaji artwork outside the Sisa Dukashe Stadium, Lindsay developed the concept from the drawings of Mdantsane ceramist and painter Loyiso Makilipi, who is friends with Mgxaji. Makilipi, however, followed another dream, taking up a teaching post at the Lady Grey Arts Academy, in the northern reaches of the Eastern Cape.
Enter Lindsay and a team of young artists: Tshepo Maputle, Lloyd Q Mugadza, Kealeboga Kwaeng and Christopher Mabena. This was the first major project for these four young artists.
The young artists who worked on the Happyboy Mgxaji artwork are:
Lloyd Q Mugadza, from Gweru in Zimbabwe, who started studying art when he was in Grade Four. After school, in 2003, he studied at the Surprise Art Centre and then went on to design his own clothing label, LQ. Of the heritage project, he says: "Now I think I am living the first part of my dream; I have always wanted to do art professionally." Apart from mosaic work, he draws, prints fabric, sign-writes, designs logos, and creates lettering with wire and beads.
Tshepo Maputle, from Daveyton (now Ekurhuleni) on the former East Rand, started drawing at the age of five. "My family would look at my drawings, and they would say I am fortunate to possess a natural talent," he says. He continued drawing as a hobby until another artist, Alex Sehlabelo, taught him important basics. He later attended workshops at the Creative Inner City Initiative (CICI), and today he works in screen printing, mosaic, sign-writing and ceramics.
Kealeboga Kwaeng, from Tembisa, Johannesburg, says he "had nothing to do after finishing school" and didn't have the money to continue his studies. He started drawing "to kill time", and then did workshops at CICI. He works in silkscreen-printing, sign-writing, mosaic arts, performance, and painting. Like Maputle, Kwaeng is also involved in a mosaic art project, called Jewel City Public Environment Upgrade, for the Johannesburg Development Agency.
Christopher More Mabena, from Boksburg and then Daveyton, has always enjoyed art and writing, but lacked the finances to go to university after completing school. In 2007, he also began studying at CICI. He says that through the heritage project artwork, he has "learned about rhythm, movement, contours and a little about highlights".
"I wanted to fight, that's all."
Happyboy Mgxaji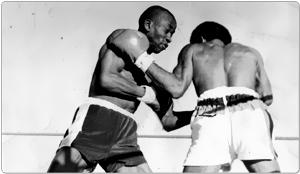 © Sunday Times

| | |
| --- | --- |
| IN THE CLASSROOM | |
Sports writing

In this lesson plan, learners will see that sports writing forms its own genre. Writers adopt a special sort of humour because they are writing for readers who expect to get a sense of pleasure from the articles on the sports pages. Learners will begin to realise that there are different kinds of written sources, often shaped by readers' expectations!
Lesson plan
You′ll need the Adobe Acrobat PDF reader to view these lesson plans.
Download it here
.


| | |
| --- | --- |
| | Artwork Photo Gallery |
| | See more pictures of our memorial to boxing hero Happyboy Mgxaji at Sisa Dukashe Stadium. |
| | |
| --- | --- |
| | Audio Documentary |
| | A young, up-and-coming boxer, Malibongwe Thokwe, talks about how he still draws on Mgxaji's legacy for inspiration every time he steps into the ring |
| | |
| --- | --- |
| | Happyboy Mgxaji in the boxing ring |
| | Happyboy Mgxaji fought his first fight in May 1969 and went on to win 88 in total. Watch this rare footage of the bout between him and Puerto Rican boxing legend Samuel Serrano |